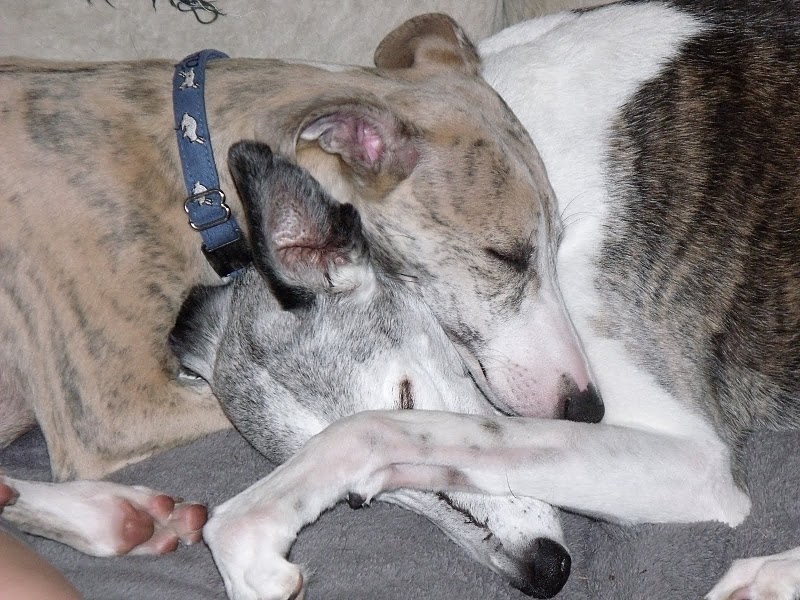 Whippets are wonderful, quiet, clean housepets. Once you've had a dog who never barks, has little to no doggie odor and sleeps the majority of the day you'll never be able to go back to "regular" dogs. That's not even considering how it makes your heart swell up every time you see them run, their speed and agility are breath taking. We got our first whippet, Nemo in the summer of 1997.
Nemo (Shaldra Mikater Elam)
Nemo was our first whippet, and undeniably the world's best dog. We adopted him at 18 months old and he lived to be 16 years old. We lost him in October 2011. click here
Lemmy (Sowagla Trace of Quick Silver)
Thanks to Yvonne Sovereign Lemmy joined our pack in April 2010. Although extremely difficult, we made the decision to rehome Lemmy to a home without children. Click here to visit Lemmy's page.
Dessa (WildAbout Grab Them Cakes)
Dessa joined us from Annie Kelsey and was a wonderful member of the family. Unfortunately we lost her in a tragic accident in the backyard, and we miss her every day. Click here for Dessa's page.
Echo (WildAbout Echo of Windwalker)
Echo was born just 6 days after we lost Dessa. We were very lucky to once again get another wonderful WildAbout whippet. Read more about Echo.
Fayde (WildAbout Fayde from Black)
Fayde is our third WildAbout whippet and a cousin to Dessa. She is a super sweet girl. Read more about Fayde.
Dozer (Surrey Hill's Obi Wan Cannoli Of City View)
Our youngest, Dozer came from Surrey Hill and he's such a good boy. Read more about Dozer
Interested in a whippet?
If you'd like to add a whippet to your family there are several places to look. If you want to skip the terror of puppydom (whippet puppies can be nuts and a LOT of work!) consider whippet rescue, WRAP. You can also adopt an adult from a breeder, they sometimes have dogs that were returned or show prospects that aren't quite what they were looking for. Nemo was an adult breeder placement and he is the worlds greatest dog! If you decide you really want a puppy make sure you go to a reputable breeder. NO PET STORES. Pet store puppies come with a myriad of health and behavior issues and are usually more expensive than a good breeder. Your breeder should have health tested the parents and be able to tell you everything, the good and bad, about their lines. They will offer lifetime support for your dog and take them back at any time if anything happens. For breeder referrals see the American Whippet Club. Also, check out the breeders listed on my links page.